Aromaleigh is Military-friendly
Shipping to all APO/FPO addresses.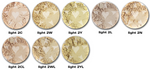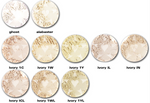 PASHMINA Heavy Coverage Mineral Foundation/Concealer - REGULAR SIZE JAR
Regular

$19.99
Sale

$19.99

Regular
Unit Price

per
Details
This listing is for Pashmina Heavy Coverage Mineral Foundation/Concealer

 

in the REGULAR size jar, commonly known as a '"20GM" jar. This size jar holds 10 GM NET WT of foundation.
IMPORTANT NOTICE IF YOU'RE AN AROMALEIGH V.1 FOUNDATION USER! Before ordering full sizes of colors you used pre-2011, we recommend that you try samples of the new formulas. The ingredients changed, and due to this colors may not apply the same. We maintained the same color naming system as a rough guideline, so that you would not need to completely start over again in a foundation color search. This does not mean that the colors are exact to the old formulas.
If you used Voile 2C, Gossamer 2C may or may NOT be a match for you. We do not guarantee that the new formulas match exact to the old formulas, in other words. Please try samples first! There are no returns on full sized jars.
Pashmina Mineral Foundation... a versatile, high-coverage foundation based on Aromaleigh v1's"Pure Cover" Concealer/Foundation.
"Pure Cover", the predecessor of our new PASHMINA mineral foundation-was a multi-purpose product which could be used as a concealer, or on it's own as a high-coverage mineral foundation. Many customers also blended Pure Cover into their Mineral Foundation formulas to develop their own customized level of coverage.
Initially, Pure Cover was offered in Aromaleigh v1's full foundation shade range. In 2006, the shade range was decreased to 9 shades which corresponded to various colors in the standard Aromaleigh shade chart (These were simply called by number, #1-#9).
We are pleased to announce that the Aromaleigh v2 version of v1's "Pure Cover" will be offered in the full v2 foundation formula shade range, and for previous users of the numbered versions 1-9, we will assist with guidelines for you. (See conversion chart link, below this text)
For best results, apply Pure Cover over well moisturized skin, allowing the powder to blend in more suitably. You may also find mixing Pure Cover mineral makeup with a small amount of your favorite serum, creme or other fixed oil provides the best results for you.
The current Aromaleigh shade matching system offered for Dewdrop and Gossamer applies to the new PASHMINA formula.We do recommend that former v1 Pure Cover users try samples to experiment with the new and improved formula, prior to purchasing in full sizes.
Like all Aromaleigh mineral cosmetics, this formulation is free of Bismuth Oxychloride.
This ingredient is what gives most mineral brands their silky, creamy feel- and lead many to believe that a powder is "higher quality" or "more finely milled"... but this is not the case. This ingredient has a totally different feel and texture than the ingredients that make up Aromaleigh products... so don't be fooled by your sense of touch. If Bismuth Oxychloride causes you to itch or break out, then your only option is to choose a mineral makeup product that does not contain it. Aromaleigh uses Titanium dioxide and Zinc oxide to replace Bismuth compounds. Zinc oxide is a valuable ingredient to boost coverage, provide broader spectrum sun protection and also benefits the skin as an anti-inflammatory and having a healing effect on blemishes.
Not sure where to start, or what color to order? Scroll down, and you'll find a range of links full of helpful information to help you learn more about mineral makeup, determining your skintone, and if applicable, the closest match for you in Aromaleigh if you're a BE user.
All shades shown in the swatch chart are available for purchase in samples and two jar sizes. Not all of the entire shade range from the Aromaleigh v1 foundation range is available. Pink (P), pink linen (PL) and most of the deep-dark shades have been eliminated due to low sales.
Pashmina Ingredients: Titanium Dioxide (CI 77891), Zinc Oxide, Sericite Mica (CI 77019), Mica +/- Magnesium Mysristate, , Silica (Silicon Dioxide), Magnesium Stearate (plant derived), Iron Oxide (CI 77491, CI 77492, CI 77499)
Sizes available:
Sample Baggie 1/2 teaspoon in a 2x2 inch zip baggie (enough product for 7-10, depending on your coverage level)
Mini Jar size (aka "10 gram" jar) holds 4 grams net weight of foundation.

The regular jar size ( aka "20 gram" jar) holds 10 grams net weight of foundation.

The large jar size (aka "50 gram" jar) holds 25 grams net weight of foundation.
---
We use only pure, refined, and finely millled cosmetic-grade minerals in our formulations. Our loose mineral cosmetic face powders are light, breatheable, and provide natural barrier protection from the sun.
You'll find it hard to believe that something this lightweight could provide such excellent coverage, but that's thanks to the nature of our ingredients. In particular, silky mica powder. This mineral covers your skin in a micro-thin layer, reflecting light, flattering your face and reducing the outer appearance of fine lines and wrinkles. Both Dewdrop and Gossamer also offer excellent coverage and skin adherence, and an extensive color palette. Pashmina, our full coverage foundation can be used alone as a foundation, or as a concealer. It can also be added to Dewdrop or Gossamer to increase coverage levels of these formulas.
---
HELPFUL RESOURCES:

What is Mineral Foundation?

How to Determine your Aromaleigh foundation shade

What Colors are Warm or Cool?
What is your Skin Tone?

Mineral Makeup FAQ
| | | |
| --- | --- | --- |
| Bare Escentuals Bare Minerals Shade | Aromaleigh's Closest Match (not exact) | Other Aromaleigh Shades You Should Consider that may provide you with a better color match... |
| | | 1C, 1N, 1CL, 1WL, 2N, 2CL |
| | | |
| | | |
| | | |
| | | |
| | | |
| | | |
| | | 4WL |
| | | 4N |
| | | |
| | | |
| | | |
Enter the content to use inside the tab selected.