Aromaleigh is Military-friendly
Shipping to all APO/FPO addresses.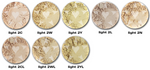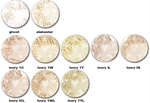 DEWDROP Medium Coverage Mineral Foundation - REGULAR SIZE JAR
Regular

$18.89
Sale

$18.89

Regular
Unit Price

per
Details
This listing is for Dewdrop Medium Coverage Mineral Foundation in the REGULAR size jar, commonly known as a '"20GM" jar. This size jar holds 10 GM NET WT of foundation.
IMPORTANT NOTICE IF YOU'RE AN AROMALEIGH V.1 FOUNDATION USER! Before ordering full sizes of colors you used pre-2011, we recommend that you try samples of the new formulas. The ingredients changed, and due to this colors may not apply the same. We maintained the same color naming system as a rough guideline, so that you would not need to completely start over again in a foundation color search. This does not mean that the colors are exact to the old formulas.
If you used Voile 2C, Gossamer 2C may or may NOT be a match for you. We do not guarantee that the new formulas match exact to the old formulas, in other words.
Please try samples first! There are no returns on full sized jars.
Dewdrop Mineral Foundation... dreamy, emollient foundation based on Aromaleigh v1's"Glissade" Mineral Foundation...
Glissade, the predecessor of our new DEWDROP mineral foundation- was the result of several years of customer feedback and testing... while many women revel in the freedom of mineral foundations, an equally large percentage of women find mineral foundations drying, itching, tightening and sensitizing to their skin... and they cannot wear them happily or successfully. We developed "Glissade" so that our customers could experience the ingredient simplicity of minerals in a formula that utilizes silicone-coated pigment technology, thereby providing a "buffer" between your skin and the pigments.
DEWDROP looks just like you'd expect any mineral foundation to appear- a fine, loose powder... however, when you begin to apply it, you begin to feel a smooth, luxurious, gliding, silky feeling on your skin... application is effortless... the powder glides over your skin and melds with your own skintone yielding the appearance of perfection. It's "Your Skin... Only Better" (TM).
All shades shown in the swatch chart are available for purchase in samples and two jar sizes.
In addition to it's emollient and buffering effects, Dewdrop offers similar benefits as our regular matte foundation powder, "GOSSAMER".
It is very finely milled and silky and contains Zinc Oxide, for full spectrum UVA/UVB protection, and advanced light-dispersing and skin-smoothing pigment technology. . Dewdrop and Gossamer also offer excellent coverage and skin adherence, and an extensive color palette.
Not sure where to start, or what color to order? Scroll down, and you'll find a range of links full of helpful information to help you learn more about mineral makeup, determining your skintone, and if applicable, the closest match for you in Aromaleigh if you're a BE user.
All shades shown in the swatch chart are available for purchase in samples and two jar sizes. Not all of the entire shade range from the Aromaleigh v1 foundation range is available. Pink (P), pink linen (PL) and most of the deep-dark shades have been eliminated due to low sales.
Dewdrop Ingredients: Sericite Mica (CI 77019), Titanium Dioxide (CI 77891), Mica +/- Magnesium Mysristate, Mica +/- Dimethicone, Zinc Oxide, Siica (Silicon Dioxide), Magnesium Stearate (plant derived), Allantoin, Dimethicone, Cyclomethicone, Iron Oxide (CI 77491, CI 77492, CI 77499) .
Sizes available:
Sample Baggie 1/2 teaspoon in a 2x2 inch zip baggie (enough product for 7-10, depending on your coverage level)
Mini Jar size (aka "10 gram" jar) holds 4 grams net weight of foundation.

The regular jar size ( aka "20 gram" jar) holds 10 grams net weight of foundation.

The large jar size (aka "50 gram" jar) holds 25 grams net weight of foundation.
We use only pure, refined, and finely millled cosmetic-grade minerals in our formulations. Our loose mineral cosmetic face powders are light, breatheable, and provide natural barrier protection from the sun.
You'll find it hard to believe that something this lightweight could provide such excellent coverage, but that's thanks to the nature of our ingredients. In particular, silky mica powder. This mineral covers your skin in a micro-thin layer, reflecting light, flattering your face and reducing the outer appearance of fine lines and wrinkles.
Both Dewdrop and Gossamer also offer excellent coverage and skin adherence, and an extensive color palette. Pashmina, our full coverage foundation can be used alone as a foundation, or as a concealer. It can also be added to Dewdrop or Gossamer to increase coverage levels of these formulas.
HELPFUL RESOURCES:

What is Mineral Foundation?

How to Determine your Aromaleigh foundation shade

What Colors are Warm or Cool?
| | | |
| --- | --- | --- |
| Bare Escentuals Bare Minerals Shade | Aromaleigh's Closest Match (not exact) | Other Aromaleigh Shades You Should Consider that may provide you with a better color match... |
| | | 1C, 1N, 1CL, 1WL, 2N, 2CL |
| | | |
| | | |
| | | |
| | | |
| | | |
| | | |
| | | 4WL |
| | | 4N |
| | | |
| | | |
| | | |
Enter the content to use inside the tab selected.