WARM & FUZZY - CHARITY HIGHLIGHTER
WARM & FUZZY is a multipurpose highlighter I created to raise money for our dog Vlad's TPLO surgery to repair his torn cranial cruciate ligament, thus giving him back his mobility and quality of life. I set up a go fund me for Vlad's surgery, and I will be applying proceeds from the sale of this color to his go fund me tally. Jars of this highlighter will feature Vlad's adorable fluffy puppy face on the jar label.
Color Description: A very pale taupe with a glowing pink iridescence. Multipurpose and vegan, can be worn as eyeshadow, highlighter, strobing powder, lip color, etc!
Available in the following size:
Mini Jar (aka "10 gram" jar) holds approximately 4 grams net weight of product. Custom label art.
Contains: mica, titanium dioxide, ferric oxide, magnesium stearate, carnauba wax, tin oxide, isododecane, capric/caprylic triglyceride
Cheek/Eye/Lip safe. Vegan.
Made in USA.
NOTE: While we have made all attempts for photographs to accurately depict colors, photography unfortunately does not accurately reveal the depth and interplay of color and effect of these powders. Also, please note that variations do exist between different computer monitors.
VLAD'S STORY:
Vlad is a 15 month old Karakachan livestock guardian dog, who loyally guards and protects a small herd of Heritage breed Kunekune and Meishan pigs on the small farm that my 14 year old son and I operate in West Union, SC.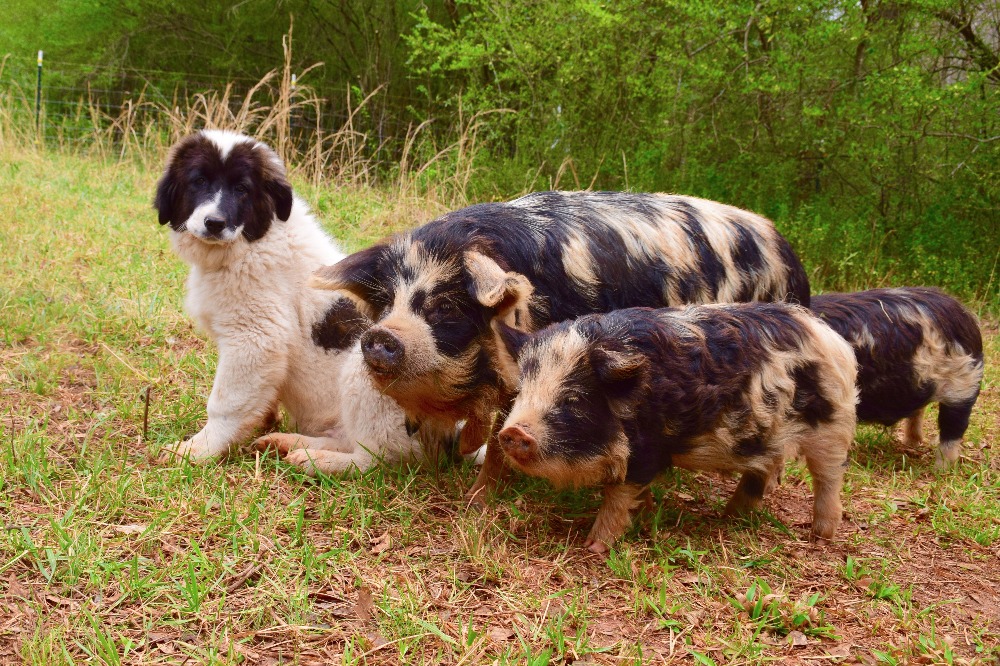 From a young age, Vlad quickly bonded to his pigs and has been a vigilant guardian, beloved pet, and one of the most important animals on our farm.

Sadly, Vlad has experienced a complete tear of his CCL (Cranial Cruciate Ligament) of his rear left leg, while working. I noticed he was favoring the foot and not wanting to put pressure on it, so yesterday we took him to the vet. He stayed there for the day, and had blood work and sedation, and received a full evaluation of his joints and also X-rays. The worst was confirmed, that the CCL had been completely torn.

Vlad is a patient at Seneca Animal Hospital in Seneca, SC, under the care of Dr. Forrest Axson, DVM.


Vlad weighs 100 pounds, and due to his size the less costly LSS surgery to stabilize the joint is not an option. He'll need to have TPLO surgery,  tibial-plateau-leveling osteotomy, which will stabilize the joint and allow him to walk on it again. This is a costly surgery, which I was not at all prepared to handle.

Our farm is new, and I've been putting every spare cent, money from my retirement withdrawn early, and using my credit cards to keep things above water until we reach a point where we are selling more than we're spending.



My son Connor is very serious about farming, and passionate about conservation of heritage breed animals, so the farm is very important to me because it's my son's dream to farm full time, once we complete his homeschooling.

We are currently waiting on scheduling for the surgeon, for Vlad to have this important surgery. In the meantime, he has to be confined to a kennel and can only have short walks each day. He requires Carprofen and Tramadol medication, and Cosequin joint supplement. I've also been making him bone broth. It's so hard for us to see Vlad confined to the kennel. The pigs have been laying at the fence closest to his kennel.




After the surgery, Vlad will need to be strictly confined to a large crate. We have an XL crate, but he is too big to fit into it, so we will need to purchase a crate that is large enough for him. He'll require some medications for a while, and need to have the joint supplement for life.

We live in a rural area of the Upstate SC foothills and a livestock guardian dog is a crucial member of any farm team, due to the potential predators they ward off. Vlad normally patrols his territory at night, barking warnings to any sounds or animals that should not be there. Coyotes and black bears are some of the predators we potentially deal with, that Vlad successfully has kept away from our pig herd.

It's important to us for Vlad to lead a healthy, happy and full life and to be able to be back in the pasture with his pigs, whom he has quite an affection for.